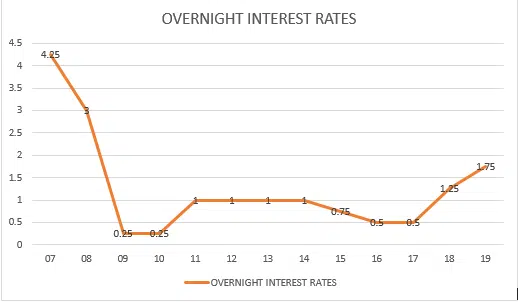 The Bank of Canada has decided to keep its benchmark interest rate the same at 1.75 per cent.
The bank has raised its key interest rates five times since 2017, typically somewhere between one and three per cent a year. The last time it raised the rate was in October.
The Central Bank has said it is expecting the economy to grow at a slower pace this year than it was previously anticipated. The BoC reiterated Wednesday morning that it believes interest rates will inevitably have to go up again, but added that the pace of future increases will depend on how the outlook evolves, with a particular focus on oil market developments and the housing market.
The energy industry is a key worry for the bank, especially after the plunge in Canadian crude oil prices. The plunge forced the Alberta government to make production cuts that ultimately weigh on the country's economic growth.
The impact of the oil crisis is prominent and already showing up in the country's economic data. In November 2018 Canada's trade deficit more than doubled, rising to $2.1 billion from $900 million in October, mostly because of the 14 per cent fall in oil prices.
Even outside the resource sector, Canada's economic performance is weak. The latest trade data shows that export volumes have fallen in eight out of the 11 trade sectors. The price of housing isn't expected to rebound from the slump faced in 2018 any time soon, and the number of Canadians relying on debt relief is beginning to rise.
-Storrm Lennie