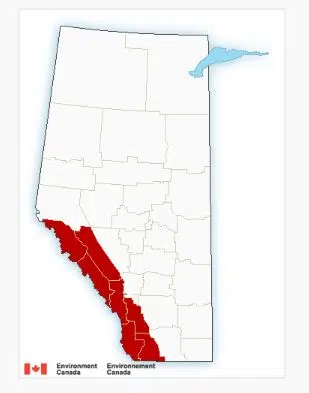 Environment Canada has issues alerts on the strong and damaging winds over the southwestern  section of Alberta. There are reports of gusts up to 130 km/h that are ripping siding from buildings and even blowing over vehicles on multiple highways.
Travelling on Highway 22 between Highway 3 and Longview is not recommended.
The warnings are for areas around Okotoks, Kananaskis, Pincher Creek, Cardston and Nordegg and have been in effect since 8:30 a.m.
The wind could get more severe in certain parts of the province exceeding 130 km/h. Other areas in Alberta are also facing alerts of wind gusts up to 100 km/h.
An overturned semi-trailer temporarily closed down Highway 22 in both directions from the intersection of Highway 533 by Chain Lakes Provincial Park south to Highway 3 by Lundbreck.
Travelling in any large, light vehicles such as empty tractor trailers or RVs is not advised.
Jasper and Banff national parks are under snowfall warnings with expected totals of 25-40 centimeters, including Highway 93.
-Kyle Hutton