Calgarians wanted their say, they had their say, and (unofficially) voted no to Calgary hosting the 2026 Olympic and Paralympic winter games.
Much of the funding promised to the city for pursuing a potential bid depended on a "yes" vote, and now that the citizens have had their say, what will happen next?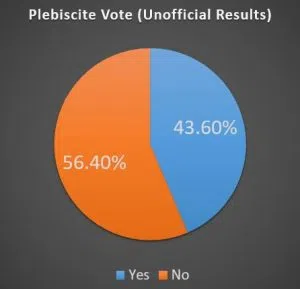 The plebiscite is non-binding, can we still host?
Technically, yes, however, city council will likely be discussing the possibility of a bid for the 2026 Olympics for the last time on Monday.  Calgary can still bid against Stockholm, Sweden and Italy's joint bid of Milan and Cortina both of which are still in the running, although where things stand right now, Calgary's 2026 Olympic dreams have come to an end.
YES Calgary 2026 says Calgary's sporting legacy will fade away…
Of course, if Calgary were to host the Olympics again any time in the next 20 years, it would likely spark the same energy that burned through the city following the '88 games, but no games doesn't necessarily mean the end of a sporting era in Calgary.
The possibility of a new/upgraded stadium for hockey is still on the table, which will benefit the Flames, as well as tourism in Calgary as seen in Edmonton's new "entertainment district".
McMahon stadium and the Oval are in need of repairs as well, but a new multi-sport field house is also a possibility.  The Oval remains a world-class training facility for short track and long track speed skating, even though it could use some love as well.
In terms of other sporting facilities, Calgary has just under 100 ice surfaces for hockey, ringette, and figure skating, a ski hill in the city with many others just a short distance away, a Nordic ski training facility just down the highway in Canmore, and the Oval.
Since we're not getting the Olympics, what WILL Calgary get?
The focus for council will be brought back to big issues such as the C-Train's green line, and provincially, the trans-mountain pipeline will be brought back to Calgary/Alberta's most prominent issues.
Since the federal and provincial governments are off-the-hook for Olympic-related funding, pipeline talks will likely be in full swing soon, and Alberta will be back in their "build it" stance.
The pipeline would create the possibility to move some of the oil that has been in Alberta stores for a long time.
Official results for the plebiscite will be released on Friday, November 16th.
-Danny Seymour