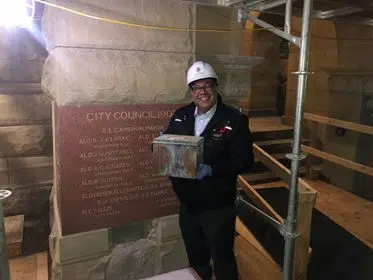 110 years ago… on September 15th, 1908 a time capsule was buried by Calgary's Mayor at the time Arthur L. Cameron in Historic City Hall.
Today our Mayor Naheed Nenshi released the time capsule from its century-long resting place inside a cornerstone pillar, unveiling the heavily worn contents within.
Some of the items include local newspapers, a voters list, medals from the police department, financial and trade reports, and even 5, 10, 25, 50 cent coins. The contents were unable to be moved due to their condition, Lisa Siley a conservator for the City of Calgary, says the documents will take months before the items can be handled.
Nenshi says this is a big milestone for Calgary and he is very excited about the new time capsule they are planning for 2019.
-Carlos Tuag
-Kyle Hutton