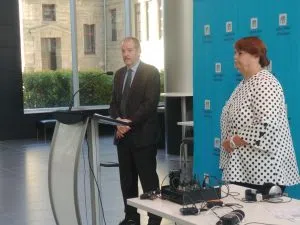 Calgary Board of Education says it has no plans to alter rules and regulations around its smoke free policy for staff, volunteers and students, regardless of marijuana legalization in Canada, beginning tomorrow, October 17th.
Calgary Board of Education Chief Superintendent David Stevenson spoke at a conference earlier today, saying the only exception the CBE will make is for those who possess a medical marijuana card.
For staff and volunteers, Stevenson says there will not be drug testing, because the CBE does not have the authority to do so under a union agreement.
Stevenson says there is no specific baseline for punishment for students who fail to comply with these regulations, as it depends on the severity of the non-compliance.
Punishment can range from a verbal warning with the principal, student and their parents, to full expulsion, depending on how severe the violation is, and whether the student has a history of violating the smoke-free policy.
If a student is suspended, the CBE's suspension team will evaluate those who are suspended for more than 5 days, to determine if expulsion is necessary.
-Cindy Letic
-Christian Oldale