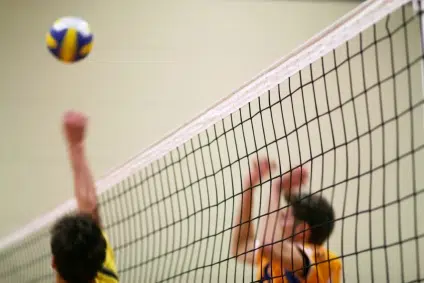 It's been eight years since SAIT has won a provincial volleyball championship but the Trojans had no problems this year going all the way.
According to Head Coach Sean Mckay, provincial gold was one of the team's goals at the beginning of the year but now the men have their eyes on a bigger prize… Nationals!
"It's a big reset and you're going to feel this big kinda sigh of relief, maybe a little content and a ton of happiness after you win," said Mckay.  "It's about resetting your minds back to improvement, back to getting better and competing again."
Mckay says monitoring rest at this point in the season is extremely important and with an older roster the short weekend in Medicine Hat last week was very helpful.
The men will go into the quarterfinal matchup with the number one ranking in the "B" pool.
Third-year left side Trent Mounter is excited for the opportunity to face off against teams they might not normally have the chance to play.
"We went to Vancouver during the Christmas break and we played those teams too," said Mounter.  "We versed VRU, Limoilou, Camosun, so these could be some of the teams that we do see especially in our bracket and also in the crossover too.  And they're all high-level volleyball, very similar kinda styles and it should be a great matchup."
The six foot four Australia native was also recognized as the ACAC Player of the Year as he was a force on the court leading the league in points per game, kills per game, and service aces.
The Trojans will need a full team effort when they take on Saint Jean Sur Richelieu in their quarterfinal matchup.
The men had to vacate the gym due to the ACAC Women's Basketball Championships and are currently practicing off-site.
They will head to Victoria early next week.