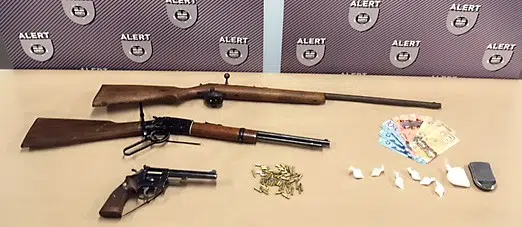 Three firearms have been seized by the Alberta Law Enforcement Response Team in Medicine Hat. The ALERT investigation has also led to four arrests.
ALERT's Medicine Hat organized crime team made the arrests and seizure on January 30 with assistance from RCMP officers and Medicine Hat Police.
The investigation focused on a group of suspected meth and gun traffickers in the city. Nearly 100 grams of meth were also seized, to go along with smaller amounts of cocaine and fentanyl.
"By conducting targeted investigations such as this one, we are curbing violence associated to the meth trade and keeping our community safe," said Staff Sgt. Cory Both, ALERT Medicine Hat.
The guns seized by ALERT were a Smith and Wesson handgun, two .22-calibre rifles and 128 rounds of ammo. One of the suspects was prohibited from possessing firearms as the result of a previous drug trafficking conviction.
Lane Hogg, Riley Lundy, Alicia Myles, and Cory Rieger were arrested and charged with a total of 38 criminal offences.