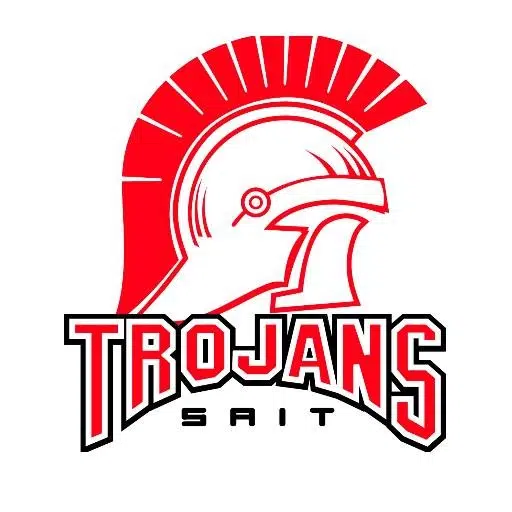 The SAIT Trojans men's volleyball team is now the top dog in Canada.
The team sits at #1 in the Canadian Collegiate Athletic Association latest rankings, which come out each week.
The Trojans are coming off a clean sweep of the 0 and 20 Olds College Broncos last weekend. Despite the dominating victory, head coach Sean McKay was not thrilled with the execution from his team.
"They put us in to some tough spots. There were some different lineups on the court that maybe we hadn't seen too much, and maybe that's partially my fault. But we just can't get complacent and the guys keeping each other accountable for that is what's going to make it happen."  Said McKay following practice on Tuesday night.
The Trojans will face a stiff test from the Briercrest College Clippers this upcoming weekend. The Clippers sit second in the ACAC behind the Trojans; the Clippers are currently riding a 9 game win streak.
SAIT power hitter Trent Mounter is hopeful the number one ranking doesn't go to their head before their biggest game thus far.
When asked about the matchup with Briercrest, Mounter said, "they have a weird kind of playing style, so it will be good to see our guys adapt to that. Also expecting a pretty almost like, not a dirty game but a kind of intense game. So hopefully it doesn't go five sets but i think we should get the job done."
The SAIT Trojans men's volleyball team will look to continue their hot start this weekend and hold on to that #1 national ranking.