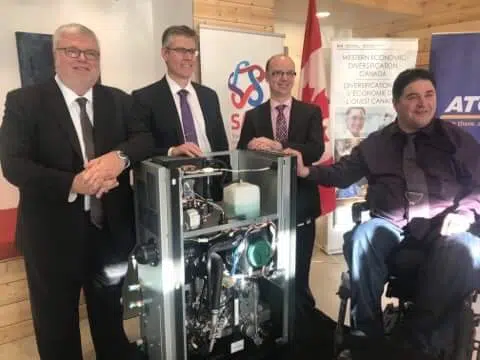 SAIT is receiving the funding from Western Economic Diversification Canada to purchase equipment for students to demonstrate micro-combined heat and power technology in homes.
Kent Hehr, Minister of Sport and Persons with Disabilities, was on campus today to make the announcement on behalf of Navdeep Bains, Minister of Innovation, Science and Economic Development and Western Economic Diversification Canada.
Micro-combined heat and power is essentially the use of a heat engine or power station to generate electricity and useful heat at the same time in single or multi family homes with a range of up to 50 kilowatts.
This method has the potential for higher efficiency than traditional grid-level generators since it lacks the 8-10% energy losses from transports.
It also lacks the 10-15% energy losses from hot water transfer, because it doesn't travel through a cold environment.
SAIT students will be trained on how to implement these systems in homes through a demonstration home in Calgary called Brookefield Residential.