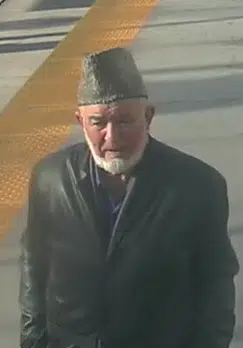 Calgary Police Service have asked the public for help to locate a man in relation to a sexual assault that took place in the city's southwest.
On November 1, 2017, a woman was approached by an unknown man when waiting for the CTrain at the downtown West Kerby LRT platform.
The man asked the woman about the train schedule and proceeded to follow her around after she gave him the requested information.
The man allegedly then started kissing her multiple times on the cheek and neck at which time the woman pushed him away.
He continued touching the woman until she pushed past him and boarded the incoming train.
CCTV footage indicates that the man attempted to approach at least two females. The second female has not yet been identified.
The man is described as being in his late 40s to 50s, approximately 5'7" tall, with a heavy build and white beard. He was wearing a grey hat, black jacket, blue shirt, white trousers and brown shoes. He spoke broken English with an accent.
Anyone who knows the identify of this man or the identity of the second woman that was approached, is asked to contact the Calgary Police Service at 403-266-1234 or Crime Stoppers through the following methods:
TALK: 1-800-222-8477
TYPE: www.calgarycrimestoppers.org
CASE # 17470250/4886
URL : http://newsroom.calgary.ca/seeking-public-assistance–sexual-assault-west-kerby-station