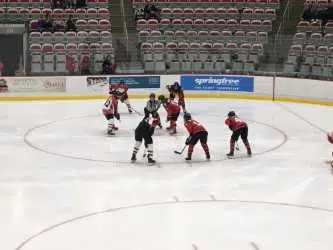 The Canadian National Women's Hockey team dominated 9-1 in the Esso Series' first game playing against the Airdrie Bisons.
The game took place at the Markin Macphail Centre, and the National women's team scored three goals in each period, however, they only outshot the Bisons 23-22.
Canadian's forward Jillian Saulnier scored twice and recorded an assist playing alongside Natalie Spooner and Jennifer Wakefield.
Saulnier says her and Spooner fed off each other and it made playing the game easier for both players.
Saulnier also says the team's dynamic is strong even though they've only been together for a short time and adds the team is still working hard preparing for the Olympics in February.
Up next for the National team, they will face Grande Prairie Friday, October 6th, 2018 at 7 p.m.
credit: Jessie Weisner and Nathanael Maurice